DUNHAM - WILCOX - TROTT - KIRK

[Jane Devlin, this site's founder and webmistress,
passed away in September of 2014.
We, members of her family, have finally gained access
to the site and we intend to keep it running.
We can't promise frequent, if any, updates,
but we believe that Jane invested too much time
and love into this site to let it disappear.]

[This site is named in honor of my Grandparents,
but you will find more than 5800 data files for CT, MA, RI, NJ, NY & MI
including over 400 will & probate files, 300 deeds &
over 300 gravestone photos from Middlesex Co., CT,
in the Reference Data section with additions being made weekly.
If you find something useful, would you please take a moment
to look at my Lost Souls section and see if you can help?]

This site was honored for the third year in a row
in the December 2013 issue of Family Tree Magazine
as one of their annual 75 Best State Genealogy Websites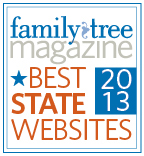 Thank you!!


MY FAMILY



Descendant Reports - 84 Family Lines with wills, vital records & sources!
Lost Souls - Can you help me find these ancestors? ANTHONY, BIRDSEY, DUNHAM, DUPLOCK, FREY, GLEW, GILBERT, GREEN, GRIMES, HUBBARD, HUBBELL, POWERS, RICH, SPARROW, WAKELIN, & WEST.
MIDDLESEX COUNTY
BRICK WALLS



These researchers need help with their Middlesex Co., CT, ancestors.

REFERENCE DATA

What's New

LAST
UPDATE
30 Aug 2014

= NEW
SINCE
1 JAN 2012







































































Can't find it here? - Check








Email me

The address above is a jpeg to foil spammers

Please type it into the address window of your message


While most of my research efforts have been in Connecticut,
I live in Michigan and am unable to access Connecticut records in person.
The data I have been able to find is on line.

Visitors since 19 Jan 2001
1,000,000 visitors on 3 May 2005
2,000,000 visitors on 23 Jan 2007
3,000,000 visitors on 28 Feb 2009
4,000,000 visitors on 1 Dec 2010
5,000,000 visitors April 2012
6,000,000 visitors on 13 Mar 2014







In Memory of
Edward M. DUNHAM, 1917-2004
Doris E. DUNHAM, 1916-2007
Jane E. DEVLIN, 1943-2014



This site now a member of



Home of the Genealogical Gleanings Award




Links to Award Winning Sites

Awards & Associations