GRAVESTONE OF
RICHARD W. WRIGHT, 1872
INDIAN RIVER CEMETERY, CLINTON,
MIDDLESEX CO., CT

Photo by Janece Streig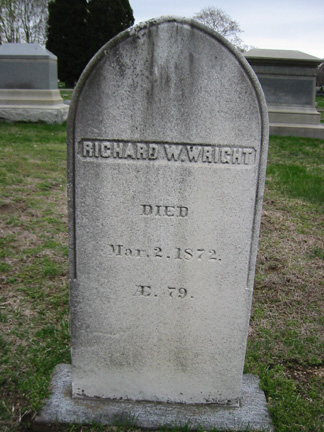 Richard W. WRIGHT. He was b. 1793 in Trenton to Martin and Dolly BENJAMIN WRIGHT. He married Lucy Polly SMITH 11 April 1816 in Westbrook and had the following children: Lucy Minerva, Nancy Lodema, Richard W., Maria Jane, Rachel Celestia, Loranzo S., Nathan H., and Erlina Eva WRIGHT. He d. 2 March 1872 in Clinton.