GRAVESTONE OF
MARTIN, 1883, & BETSEY WRIGHT, 1876
INDIAN RIVER CEMETERY, CLINTON,
MIDDLESEX CO., CT

Photo by Janece Streig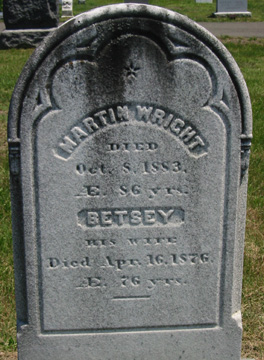 Martin WRIGHT (Jr.),
b. 28 Jun 1797 in Trenton, Middlesex County
d. 8 Oct 1883 in Westbrook,
the son of Martin and Dolly BENJAMIN WRIGHT.
He married Betsey WRIGHT
(b. abt. 1794 and d. 16 April 1870)
26 Dec 1820 in Westbrook.
They were the parents of Edgar Lester, David Lester and John B. WRIGHT.