GRAVESTONE OF
LUCY WRIGHT, 1882
INDIAN RIVER CEMETERY, CLINTON,
MIDDLESEX CO., CT

Photo by Janece Streig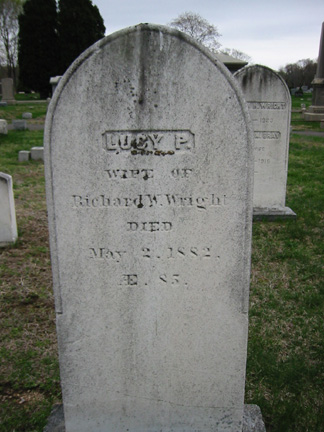 Lucy Polly (SMITH) WRIGHT,
b. 1797, d. 21 April 1882 in Clinton,
the daughter of Lorenzo and Mima Maria POST WRIGHT.
She married Richard W. 11 April 1816 in Westbrook
and was the mother of Lucy Minerva, Nancy Lodema, Richard W., Maria Jane,
Rachel Celestia, Lorenzo S., Nathan H., and Erelina Eva.