GRAVESTONE OF
JOSIAH WRIGHT, 1832
INDIAN RIVER CEMETERY, CLINTON,
MIDDLESEX CO., CT

Photo by Janece Streig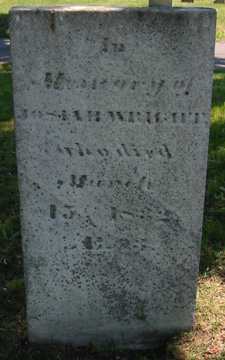 Josiah WRIGHT,
b. 6 July 1740 in Saybrook and d. 15 March 1832 in Westbrook,
the son ofJosiah and Rhoda DOWD WRIGHT.
He married 27 Oct 1761 in Saybrook, Lydia WHITTLESEY
(b. 13 June 1767 in Saybrook, d. 13 July 1862 in Postsdam, St. Lawrence, NY)
Their children were: Cornelius, Martin, Paul, Benjamin, Lois & Hulduh.