GRAVESTONE OF
JOHN B. WRIGHT, 1932, &
ALICE (GOODRICH) WRIGHT, 1904, &
MINNIE (RUSSELL) WRIGHT, 1930
INDIAN RIVER CEMETERY, CLINTON,
MIDDLESEX CO., CT

Photo by Janece Streig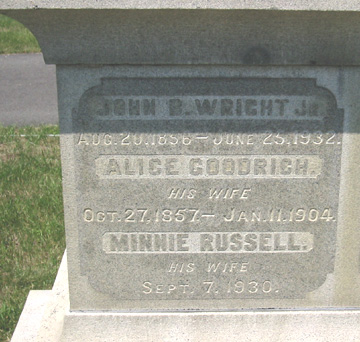 John B. WRIGHT, Jr.
b 28 Aug 1856 and d. 26 June 1932,
the son of John B. and Rachel F. STANNARD WRIGHT.

Alice Chapel Goodrich, his first wife,
b. 27 Oct 1857 in South Glastonbury and d. 11 Jan 1904 in Clinton,
the daughter of Edwin and Martha A. HULL GOODRICH.

His second wife, Minnie RUSSELL d. 7 Sept 1930.