GRAVESTONE OF
HOROTIO G. WRIGHT & LOUISE WRIGHT
INDIAN RIVER CEMETERY, CLINTON,
MIDDLESEX CO., CT

Photo by Janece Streig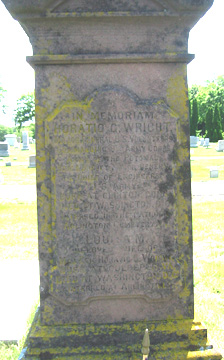 Horotio Governeir b. 3 June 1820 d. ?
and Louise WRIGHT, d.?.
This is a very interesting marker, but no where is there any dates of death--
just that they are buried at Arlington National Cemetery
and listing his accomplishments.