GRAVESTONE OF
WRIGHT, ELMER GOODRICH, 1959, & KATHERINE O. (EATON), 1955
INDIAN RIVER CEMETERY, CLINTON,
MIDDLESEX CO., CT

Photo by Janece Streig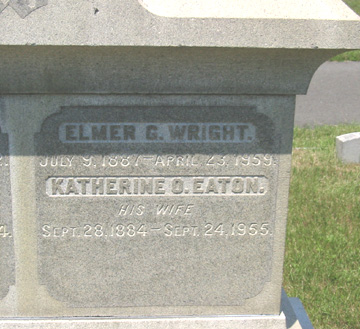 Elmer Goodrich,
b. 9 July 1887 in Clinton and d. 23 Apr 1959.
He was the son of John B. WRIGHT, Jr. and Alice GOODRICH.
Katherine O. EATON
b. 28 Sept 1884 and d. 24 Sept 1955.