GRAVESTONE OF
EDWIN H. WRIGHT, 1923, & LUCY E. (BECKLEY), 1912
INDIAN RIVER CEMETERY, CLINTON,
MIDDLESEX CO., CT

Photo by Janece Streig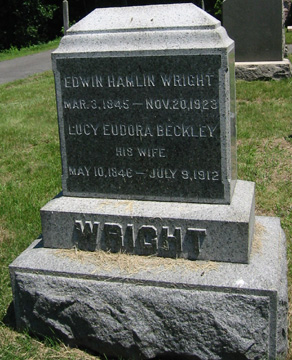 Edwin Hamlin
b. 3 March 1845 and d. 20 Nov 1923 in Clinton
the son of Jeremiah WRIGHT and Laura Ann HURD.

His wife, Lucy Eudora BECKLEY
b. 10 May 1846 and d. 9 July 1912 in Clinton,
the daughter of George BECKLEY and Mary LEWIS.