GRAVESTONE OF
DAVID LESTER WRIGHT, 1913, & AMELIA M. (?) WRIGHT, 1904
INDIAN RIVER CEMETERY, CLINTON,
MIDDLESEX CO., CT

Photo by Janece Streig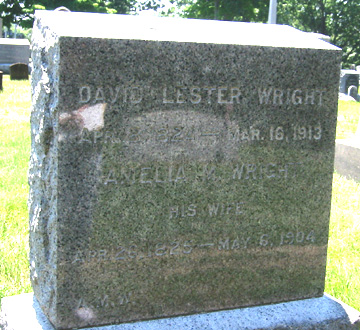 David Lester WRIGHT, b. 18 April 1824 and d. 16 March 1913.

He was married to Amelia M. WRIGHT, daughter of b. 26 April 1825 and d. 6 May 1904. She was the daughter of Martin and Betsey WRIGHT WRIGHT
David & Amelia were the parents of Alice C., Dollie E., and James L. WRIGHT.