GRAVESTONE OF
SHERWOOD S. THOMPSON, 1898
INDIAN RIVER CEMETERY, CLINTON,
MIDDLESEX CO., CT

Photo by Janece Streig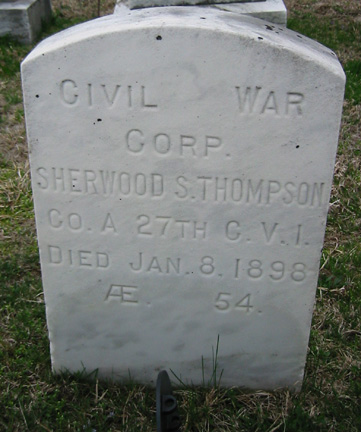 Biography on Ralph Sherwood Thompson

Ralph, also known as Sherwood, was a farmer prior to the Civil War. He had dark hair, blue eyes, dark complexion, and was 5'9". (B)

Ralph fought in the Civil War. He was 19 years old when he enlisted on 8/9/1862, to serve three years, as a Private in Captain Samuel Fiskes Co. "G" of the CT 14th Infantry. He mustered in on August 20, 1862 at Camp Foote, Hartford, CT where he was paid a $25 bounty. (B) They left Camp Foote, Hartford on August 25, 1862. He was a member of the "Scranton Guard", Co. G, 14th CT. (E)

He was wounded on September 17, 1862 at the Battle of Antietam. On October 30, 1862 he was listed as sick at Harper's Ferry. (B) While at Harper's Ferry, Ralph S. Thompson was listed as one of several men who received care from T.S. Scranton of Madison. (I) By December 31, 1862 he had been transferred to the hospital at Camp B, Frederick, MD until February, 1863. (B)

He returned to his regiment on April 10, 1863 and fought at Chancellorsville, VA from May 1-3, 1863. On the final day of fighting, May 3, 1863, he was wounded in the left hand. On that day, he was part of the 2nd Brigade, French's division, 2nd Corps. He was sent to the hospital at Point Lookout, MD until September 20, 1863 when he was transferred to the Knight U.S.A. General Hospital in New Haven where he remained until February 20, 1862 when he was transferred to the Invalids Corps. (B)

On May 16, 1864, he transferred into "159th" Co. VRC 2nd Battn. He was discharged on May 31, 1865 at Baileys Cross Roads, VA.

He received a pension(D). The pension record lists minor - Frederick L'Hommedieu (there was a Frederick L'Hommedieu, Saybrook Town Clerk 1910's)

In 1870 he is living under father's household. He is listed as Sherwood, age 27, farm laborer.

In 1880, Sherwood Thompson (40), a farmer, is living with his with his wife Sarah E, (40) and their infant daughter Louva L. (2 mos) under the household of Sarah's brother William B. Wright (54) (G)

His daughter died on July 29, 1880 and his first wife died on January 13, 1884. He married 2nd, Emma A. Brucker. She died on November 12, 1897. They are all buried in the Clinton Cemetery. (H)

He died on January 8, 1898. (F) Sherwood Thompson's tombstone is located in the Clinton Cemetery

written by Tracy Thompson Tomaselli October 13, 2010

*****

(A) 1870 Census, Madison, CT pg. 44
(B) Military Records, National Archives (note in the file mentions that he also appeared as R.T. Thompson, Ralph E. Thompson and Ralph S. Thomson)
(C) History of the Fourteenth Regiment, Connecticut Vol. Infantry. Charles D. Page, The Horton Printing Co., Meriden, CT 1906, p 50
(D) NARA, Pension application: invalid app #76785, cert # 112565 and minor app #671832, cert # 515423) Co G - 14th and 159 Co. 2 Battln, VRC
(E) "Scranton Guard" lists, Charlotte Evarts Memorial Archives, Madison, CT
(F) Minutes of the fifty fourth annual meeting of the society of the fourteenth CT regiment held at Milford, CT, September 17, 1918, p. 20. Charlotte Evarts Memorial Archives, Madison, CT
(G) 1880 Census, Westbrook, CT
(H) Clinton Cemetery burial inscriptions
(I) T.S. Scranton diary October 31, 1862, Charlotte Evarts Memorial Archives, Madison, CT (T.S.Scranton was a Madison man who brought medical suppies and other supplies by wagon down to men of the 14th)

Other ENGAGEMENTS of the 14th, Co. G. where he was not present due to wounds or illness:
Fredericksburg, VA Dec. 13, 1862 (part of the division that first charged the famous stone-wall at the foot of Marye's Hill)
Gettysburg, VA, July 2-3, 1863
Falling Waters, VAm July 14, 1863
Auburn, Va., 0ct. 14, 1863.
Bristoe Station, Va., Oct. 14, 1863.
Blackburn's Ford, Va., Oct. 17, 1863.
Mine Run, Va., Nov. 29, 1863.
Morton's Ford, Va., Feb. 6, 1864.

*****

Clinton Cemetery
Sherwood R. Thompson, d. Jan. 8, 1898 ae 54
Sarah E. His wife, d. Jan 13, 1884, ae 44 (her last name- Wright - see 1880 census)
Louva L., their daughter, d. July 29, 1880, ae 3 mos. 11 days
Emma A. Brucker, his wife, d. Nov. 12, 1897, ae 41

Note: Tombstone for Sherwood R. Thompson lists Corp. CoA 27th CVI 27th - had men from Madison and New Haven area including a different Sherwood S. Thompson, 18yr old Clerk from New Haven, who died 1907. (note: this date matches source (F), but tombstone service info is incorrect)

**********************************************************************************************

Sherwood S. Thompson

Police Commissioner Sherwood S. Thompson of New Haven died yesterday morning of heart trouble. He was born in New Haven in 1844 and went to work at the age of 15 years, served in the Civil War , in Company A, Twenty-Seventh C.V., becoming corporal. Since the war he had been in the baking business. He had been prominent, socially, politically and religiously, and belonged to many clubs, societies and organizations. He was twice married. He leaves a wife and son.

Hartford Courant, August 8, 1907

1860 - census, 15, clerk, living with Samuel Smith, merchant
1865 - m. Mary
1870 - census, occupation: baker, New Haven
1872 - daughter Nellie born
December 24, 1878 - m. Ellen Louise Sanford
1880 & 1900 - New Haven Census, Baker
1907 - death

Romantic School Girl. Nellie B. Thompson, Aged 17, Elopes with Heary B. Pardee and is Married
(News Article)

Date: 1889-05-09;
Paper: New Haven Register

Nellie B. Thompson, aged 17, elopes with Neary B. Pardee and is Married.

Nellie B. Thompson, the 17 year-old daughter of Alderman Sherwood S. Thompson, eloped to New York with Henry B. Pardee last Saturday, where they were married by Rev. Robert F. Sampla. Nellie attended the Webster school until then, and upon her absence being inquired into the facts of the elopement and marriage became known. Nellie resided with her grandmother, Mrs. Robert Blair, at 152 Columbus Avenue, and at church she has frequently met young Pardee, who is a very gentlemanly fellow employed as a clerk in the freight office on Long Wharf. Saturday the young people met, Henry declared his love and shortly afterward they were on their way to New York. They were married and returned to this city about 8 o-clock in the evening, both agreeing to keep the matter a secret. Nellie kept quiet until Tuesday and then wrote a note to her father telling him what had been done and asking for his forgiveness. After recovering from his surprise Mr. Thompson reproved his daughter, and it is understood finally forgave her.