GRAVESTONE OF
JAMES A. SPENCER, JR., 1963, & JENNIE M. SPENCER, 1932
INDIAN RIVER CEMETERY, CLINTON,
MIDDLESEX CO., CT

Photo by Janece Streig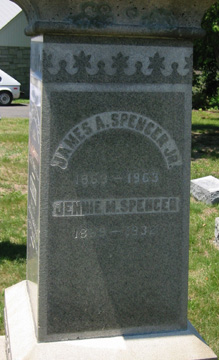 James A. SPENCER, Jr. b 1863 d. 1963
and Jennie M. (?) SPENCER B. 1869 d 1932.
He was the son of James Albert and Martha SPENCER and his date of birth was Nov. 26, 1863.