GRAVESTONE OF
JAMES ALBERT SPENCER, 1900, & MARTHA (L'HOMMEDIEU) SPENCER, 1893
INDIAN RIVER CEMETERY, CLINTON,
MIDDLESEX CO., CT

Photo by Janece Streig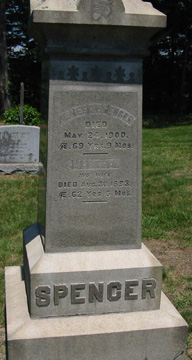 James Albert SPENCER,
d. 24 May 1900 age 69 yrs 9 mos. son of James A. SPENCER
and wife, Martha (L'HOMMEDIEU) SPENCER,
d. 30 August 1893 age 62 years 11 mos?
the daughter of Charles L'HOMMEDIUE and Martha KELSEY.