GRAVESTONE OF
INDIAN RIVER CEMETERY, CLINTON,
MIDDLESEX CO., CT

Photo by Janece Streig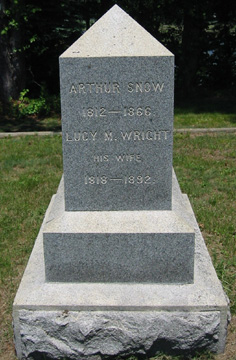 Arthur SNOW, b. 11 July 1816 in Fairfield, CT, d. 13 July 1866 in Clinton. He was the son of William and Lucretia PORTER SNOW. He married Lucy Minerva WRIGHT 9 Jan 1940 in Clinton. Lucy was b. 9 April 1817 in Westbrook and d. 22 Feb 1892. She was the daughter of Richard W. and Lucy Polly SMITH WRIGHT. They were the parents of Jeannette Lodema, Harriet Artemesia, Albert Arthur and Ella Maria SNOW.