GRAVESTONE OF
ALBERT ARTHUR SNOW, 1931, & KATE ADELLA (COE) SNOW, 1926
INDIAN RIVER CEMETERY, CLINTON,
MIDDLESEX CO., CT

Photo by Janece Streig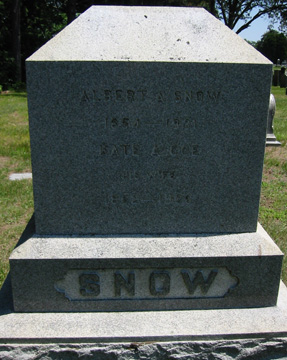 Albert Arthur SNOW, b.17 April 1754 in Clinton, d. 1931, the son of Arthur and Lucy Minerva WRIGHT SNOW. Her married Kate Adella COE, b. 2 April 1852in Madison, New Haven and d. 20 July 1926 in Clinton. Katie was the daughter of Samuel Norton and Sarah Elizabeth WHEADON COE. Albert and Kate were the parents of Addie Agnus SNOW.


[The lettering shows better in a negative version]