GRAVESTONE OF MARY A. ROGERS, 1847
INDIAN RIVER CEMETERY, CLINTON,
MIDDLESEX CO., CT

Photo by Janece Streig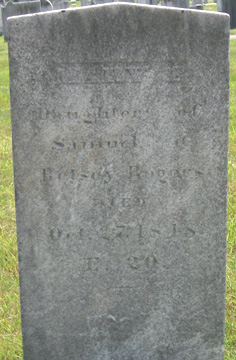 [From Janece:] This one is a lot confusing. Mary A. ROGERS was bron abt. 1827 and d. 27 Oct 1847. The tombstone says she was the daughter of Samuel & Betsey ROGERS. However, I have her mother as Sarah Mary. Here father, Samuel, had died and Sarah had married Silas P. CARTER. This death is recorded in the HURD Diary as "CARTER, Silas had d. Wid. Mary ROGERS, d. Oct 27, 1848, ae 20." So, either her mother is Betsey CHAPEL HUNTLEY or Sarah Mary (?) ROGERS. Father, Silas, was not married to anyone named Sarah or Mary; it was the son Silas P. that was married to Sarah.

I am not sure if Silas P. was still in CT when Mary died. Silas, the father died in 1840 and it took a few years to settle the estate because he had no will.