GRAVESTONE OF
WILLARD E. RADTKE, 1968, & BESSIE E. (CARTER) RADTKE, 1978
INDIAN RIVER CEMETERY, CLINTON,
MIDDLESEX CO., CT

Photo by Janece Streig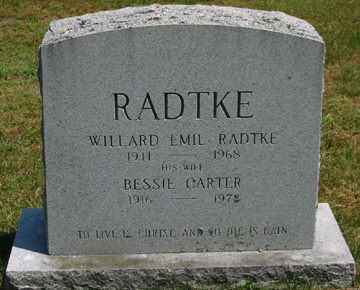 Willard Emil RADTKE
b. 1911, d. 1968
and his wife,
Bessie Ellen CARTER,
b. 8 Feb 1916 in Clinton, d. 1978,
the daughter of George Seldon and Florence Mabel MAINE CARTER.