GRAVESTONE OF
WILLIAM KIRTLAND, 1894, & JEANNETTE ELECTA (CARTER) KIRTLAND, 1898
INDIAN RIVER CEMETERY, CLINTON,
MIDDLESEX CO., CT

Photo by Janece Streig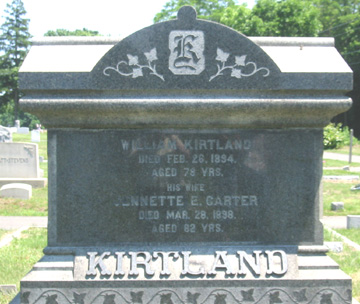 William KIRTLAND,
b. Abt. 1816 in Saybrook, d. 26 Feb 1894 in Clinton,
son of Bushnell & Hannah KIRTLAND
and his wife,
Jeannette Electa CARTER,
b. 9 Nov 1816 in Clinton, d. 28 March 1898 in Clinton,
the daughter of George and Jerusha CRANE CARTER.