GRAVESTONE OF
REV. AMOS S. CHESEBROUGH, 1905; HARRIET, 1897; HARRIET CHAPMAN, 1870
SAYBROOK CEMETERY, SAYBROOK,
MIDDLESEX CO., CT

Photo by Janece Streig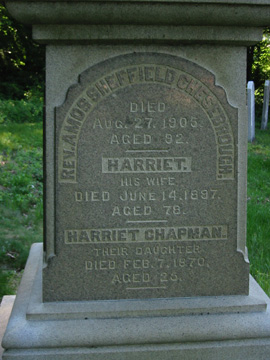 This is the fourth side of the Chapman Family monument:
Rev. Amos Sheffield CHESEBROUGH, d. 27 Aug 1905 Aged 92
Harriet, his wife d, 14 June 1897 Aged 78
Harriet Chapman, their daughter d. 7 Feb 1870 Aged 26.