GRAVESTONE OF
WILLIAM P. CARTER, 1933, & MARIA E. (BROMLEY) CARTER, 1879
INDIAN RIVER CEMETERY, CLINTON,
MIDDLESEX CO., CT

Photo by Janece Streig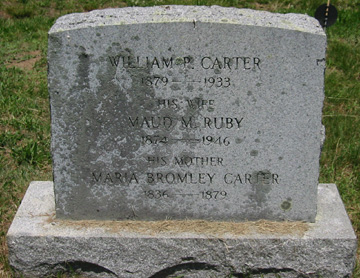 William Prentice CARTER, b. 4 March 1879 in Clinton d. 1933, Massachusetts, the son of Sidney Silas and Marie E. BROMLEY CARTER. He married Maud McNary Ruby 9 Jan 1904 in Clinton and was the father of David George and Faith Maud CARTER.

Maria E. BROMLEY CARTER was b. 4 Mar 1844 in Massachusetts and d. 24 Mar 1879. She was the daughter of Prentiss S. and Makala R. (?) BROMLEY. She married the Rev. Sidney Silas CARTER Abt. 1784. Her children were Lena May, Albert B. and William Prentice CARTER.