GRAVESTONE OF THANKFUL (POST) CARTER, 1822
INDIAN RIVER CEMETERY, CLINTON,
MIDDLESEX CO., CT

Photo by Janece Streig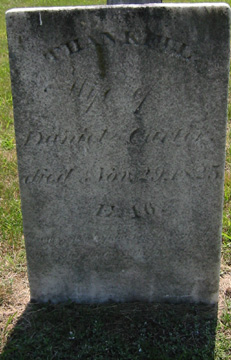 Thankful POST CARTER, b. Abt. 1766 and d. 29 Nov 1822 in Clinton, the daughter of Abner and Abigail WILLCOCKS POST. She married Daniel CARTER 8 May 1786 in Westbrook. She was the mother of Cynthia, Daniel Emeline, Sidney Silas, Nancy, Abner, Albert A., Horace, Abby, Eunice A. and Emily CARTER.