GRAVESTONE OF
INDIAN RIVER CEMETERY, CLINTON,
MIDDLESEX CO., CT

Photo by Janece Streig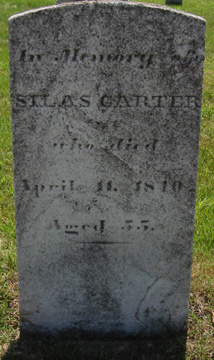 Corp. Silas CARTER, b. 1785, d. 11 April 1840 in Clinton.
He was the son of Deacon Benjamin and Phebe SPENCER CARTER.
He married Hannah S. BOGUE in 1813. He married 2nd BETSEY E. CHAPPELL HUNTLEY 1 Nov 1834.
His children by Hannah were Phebe Lee, Silas P., Sarah, Samuel Orvis, Jane J., George D., Cynthia U. and Austin O. CARTER.
His children by Betsey were Hannah Elizabeth, Jonathan L. and Seldon Smith CARTER.
He served in the War of 1812. He has two stones--one is a private stone and one is a state stone (below).