GRAVESTONE OF SELDEN CARTER FAMILY
INDIAN RIVER CEMETERY, CLINTON,
MIDDLESEX CO., CT

Photo by Janece Streig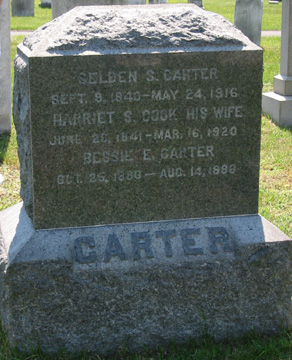 Seldon Smith CARTER b. 9 Sept 1840 in Clinton, d. 24 May 1916 in Clinton, son of Silas CARTER and Betsey Elizabeth CHAPPELL CARTER. He married Harriett S. COOK 14 Nov 1865 in Clinton. Harriet was b. 26 June 1841 in CT, d. 16 Mar 1920. They were the parents of Bessie E., Elizabeth Linnie, Chapel Smith, Harriet S., and George Seldon CARTER.