GRAVESTONE OF
DR. SAMUEL CARTER, 1853,
& ELIZABETH [BETSEY] (REDFIELD), 1877
UPPER CEMETERY, SAYBROOK,
MIDDLESEX CO., CT

Photo by Janece Streig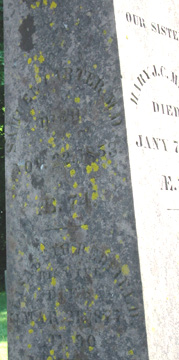 Dr. Samuel CARTER, b. 11 July 1779 in Killingworth and d. 22 Nov 1853 in Vernon, Oneida, New York. He was a son of Benjamin and Phebe SPENCER CARTER and married Elizabeth (Betsey) REDFIELD 10 March 1804. She was b. Abt 1786 in Clinton to Samuel & Martha LANE REDFIELD and d. 21 Mar 1877. They were parents to Elizabeth Maria, Wealthy Ann, Susan Amalia, Grace Redfield, Carline Matilda, Mary Jennette, Harriet August and Phebe Auralia.