GRAVESTONE OF MALINDA (KELSEY) CARTER, 1862
INDIAN RIVER CEMETERY, CLINTON,
MIDDLESEX CO., CT

Photo by Janece Streig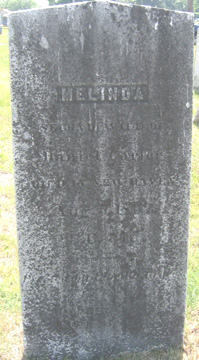 Malinda (Melinda) KELSEY CARTER.
She was b. 1788 d. 5 Aug 1862 (1852), in New Haven.
She was the second wife of Daniel CARTER m. 28 Nov 1824 in Killingworth
and was the mother of Joel and Hannah.