GRAVESTONE OF
INDIAN RIVER CEMETERY, CLINTON,
MIDDLESEX CO., CT

Photo by LeRoy Carter, sent by Janece Streig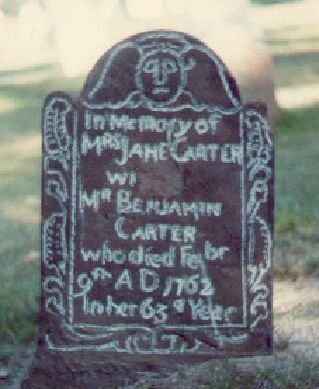 Jane KELSEY CARTER,
b. 7 May 1699 in Killingworth and d. 10 Feb 1762
She was the daughter of Daniel and Jane CHALKER KELSEY.
She married Deacon Benjamin CARTER 18 January 1726/27 in Killingworth
and was the mother of Jane, Abigail, Katherine (Catherine) and Deacon Benjamin CARTER.
This picture is from LeRoy CARTER and is no longer standing. There was a replacement marker, shown below.