GRAVESTONE OF HANNAH S. (BOGUE) CARTER, 1834
INDIAN RIVER CEMETERY, CLINTON,
MIDDLESEX CO., CT

Photo by Janece Streig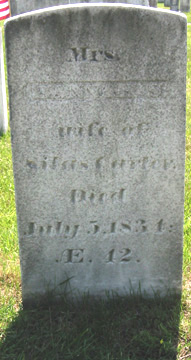 Hannah S. BOGUE CARTER,
b. 4 April 1793 in Lyme, New London,
d. 7 July 1834 in Clinton.
She was the daughter of John and Rachel BELOTE BOGUE.
She married Silas CARTER in 1813 and was the mother of
Phebe Lee, Silas P., Sarah, Samuel Orvis, Jane J., George D., Cynthia U. and Austin O. CARTER.