GRAVESTONE OF CARTER FAMILY
INDIAN RIVER CEMETERY, CLINTON,
MIDDLESEX CO., CT

Photo by Janece Streig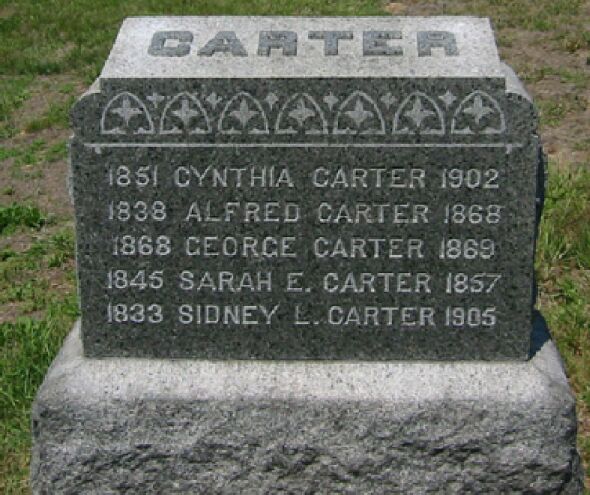 [From Janece:]

This one is truly a family story: Cynthia b. 1861 d. 1902, Alfred b. 1838 d. 1868, Sarah Ellen b. 1845 d. 1857 & Sidney L. b. 1833 d 1905 are children of Abner and Emeline E. STANNARD Carter. George (b. 30 Aug 1868 d. 21 Aug 1869) is the son of Alfred. Sidney was a physician. This marker was not the marker that was there during the Hale Collection, or they missed the George in the middle of the marker (which I find hard to believe). Also, the marker looks like Cynthia's date is 1851, but it is (or should be) 1861.

In the 1870 census for Oppenheim, Fulton County, NY, it shows that Sidney married in the month of June. However, he is listed with the Alfred GIBSON family and the only other member of the family that has June as being married was Hellen GIBSON--not listed as Helen CARTER. I don't see here ever again.

In 1880, Cynthia was living with Sidney. No Helen in that census year. In 1900, Cynthia and Sidney were back in Clinton, not living together, but both single.

This is not my direct line as it comes down from Daniel CARTER, and I can't find hardly anything on this family--no birth or death records in either Killingworth or Clinton Barbour Collection, except the marriage of Abner and Emeline.