GRAVESTONE OF
INDIAN RIVER CEMETERY, CLINTON,
MIDDLESEX CO., CT

Photo by Janece Streig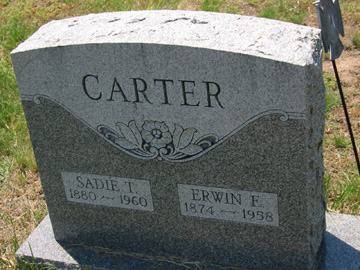 Erwin Ernest CARTER. b. 18 Oct 1874 d. 1958,
son of Charles Edgar and Julia Jerusha STANNARD CARTER.
He married Elsada V. TYRON 17 Sept 1902.
(Sadie T. is the same person as Elsada V.)
Their children were Leverett Ernest and Eunice Elizabeth.