GRAVESTONE OF CHAPEL SMITH CARTER FAMILY
INDIAN RIVER CEMETERY, CLINTON,
MIDDLESEX CO., CT

Photo by Janece Streig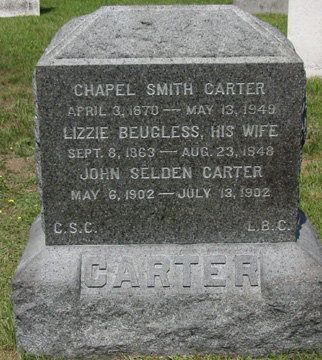 Chapel Smith CARTER, b. 3 Apr 1870 in Clinton, d. 13 May 1949,
married Abt. 1902
Elizabeth Lizzie BIEZLESS CARTER, b. 8 Sept 1863, RI, d. 23 Aug 1948

John Seldon CARTER, b. 6 May 1906 in Ansonia, New Haven, d. 13 July 1902 in Ansonia, New Haven (their child).

Other children of Chapel and Elizabeth were:
C. Emerson, and Howard S.

Chapel was the son of Seldon Smith and Harriett S. COOK CARTER.